In recent weeks, many of us have gained a renewed appreciation for the U.S. Postal Service and its dedicated workers, nearly 100,000 of whom are veterans. President Trump and Postmaster General Louis DeJoy appear determined to sabotage the Postal Service in an attempt to suppress mail-in voting. But it isn't only USPS employees who have borne the burden of this interference. People everywhere have suffered. My office has been inundated with calls from Marylanders whose lives have been seriously harmed by the sudden slowdown in postal deliveries. Seniors and veterans have not been receiving medications they desperately need. Paychecks, pensions, and financial assistance are not arriving on time, meaning that some families literally could not put food on their tables. Already-struggling businesses have not received orders and payment for services, and their products have not reached customers in timely manner. Marylanders who pay bills by mail have incurred unnecessary late fees and damage to their credit ratings. And all these problems are only the tip of the iceberg.
President Trump and Postmaster General DeJoy's machinations have been far-reaching. Almost immediately after the Republican majority in the Senate rubber-stamped his appointment, DeJoy advanced a series of policy changes designed to tear apart the very fabric of the USPS. He eliminated overtime pay – always important to achieving the Postal Service's mission – which meant that a frontline workforce already decimated by COVID-19 could not possibly close gaps in its operations. The inexplicable removal of mailboxes from our neighborhoods and high-speed mail-sorting machines from postal distribution centers made no sense whatsoever, until we saw that these actions disproportionately affected states with Democratic-majority populations or election results likely to be closely contested. While DeJoy cast these actions as necessary cost-cutting measures, they represented a major shift away from the Postal Service's longstanding commitment to getting the mail out every day. For months, DeJoy refused to take ownership for these operational changes, until he finally confirmed in an August 6th letter to lawmakers that these so-called "reforms" were made under his authority.
The very next day, DeJoy announced major organizational changes resulting in the reassignment or displacement of 23 senior Postal Service executives. This attempt to centralize power is especially troubling because DeJoy is the first Postmaster General in nearly 20 years who has not been a career USPS employee. He came to the position with no experience in USPS operations. Even more troubling, DeJoy is a major stakeholder in multiple competitors to the USPS, conflicts of interest that should have immediately disqualified him from the job outright.
Other troubling new developments included reports that the Postal Service leadership was actively considering raising rates on election mail and no longer automatically considering all election mail as first-class. This could triple costs and have catastrophic effects for state and local election boards that had already established strategies and budgets for facilitating mail-in voting. These election boards simply do not have spare resources for a massive, 11th-hour rate hike.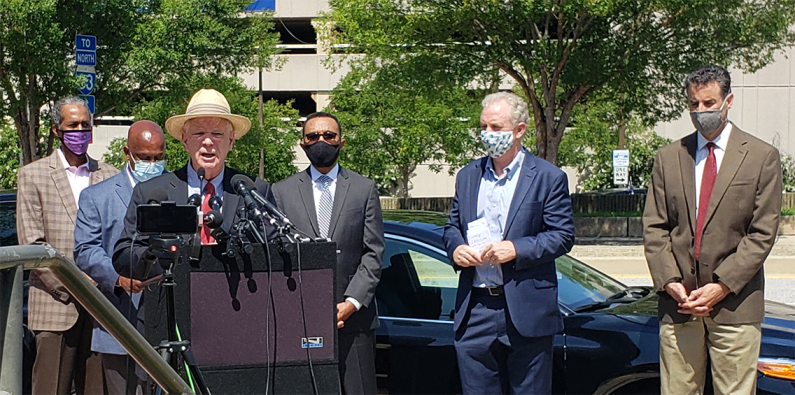 Recognizing the seriousness of the situation, several of my colleagues and I have taken action to decry the blatant abuse of this vital public service. On Monday, I joined Senator Chris Van Hollen and Congressmen John Sarbanes and Kweisi Mfume, along with local elected leaders, USPS union representatives, and Marylanders, on the streets of Baltimore to speak out publicly against the abuses. My colleagues and I also directly pressured DeJoy in written correspondence to roll back his policy changes, called on him to back away from possible cost increases for election mail, and urged him to consider the acute harm his actions have had on America's veterans. We were joined in this effort by our colleagues and citizens nationwide, who have had enough of the President Trump's efforts to undercut our elections and the institutions we hold dear – all for his own personal gain.
Fortunately, we possibly have begun to see some progress. On Tuesday, DeJoy pledged to postpone many of his most damaging policy changes temporarily – until after the November elections. But on Thursday, we learned that maintenance managers nationwide were ordered not to reconnect or reinstall any mail sorting machines they had already disconnected. DeJoy agreed to appear before the Senate's Homeland Security & Governmental Affairs Committee this week, ending his efforts to dodge congressional oversight. He has much explaining to do.
These developments are a start, but we must permanently repair the damage President Trump and DeJoy have caused.  During a pandemic when Americans across the country rely on the Postal Service more than ever, DeJoy's directives have been especially destructive. He must be held fully accountable. And undoing the damage he has already done is only a start – we must do much more to ensure that the USPS can get the job done.  
Senate Democrats continue to call on Senator Mitch McConnell to bring the Senate back into session so we can act on the House bill that will reverse DeJoy's directives and provide $25 billion in emergency funding. In addition, the CARES Act increased the ability of the Postal Service to borrow from the U.S. Treasury by $10 billion. Disregarding the separation of powers, President Trump threatened not to approve the loan unless rates were raised for online companies like Amazon, continuing his personal feud with Amazon (and Washington Post) owner Jeff Bezos. Treasury Secretary Steven Mnuchin also tried to use agreeing to loan terms as leverage to impose major changes to the USPS. Only recently did the administration reach an agreement on approving terms.  Even with this loan, however, based on current projections the USPS will not have sufficient financial resources to maintain its current level of operations beyond FY2020. I support providing the $25 billion in emergency appropriations to cover revenues lost due to COVID-19. The House-passed HEROES Act would provide frontline workers, including postal workers, with hazard pay in recognition of the risk that they take to provide essential public services. We should have passed these provisions, along other important relief included in the House bill, months ago – but Senator McConnell and his Republican colleagues refused.
Since the founding of our nation, the U.S. Postal Service has been one of the most important public services the federal government provides. Our Founding Fathers enshrined it in Article 1 of the Constitution for good reason. Today, the USPS handles 48 percent of the world's mail volume and operates more than 31,600 retail locations.  It remains a critical element of our public infrastructure and should never be diminished for political gains.
Too many Marylanders – and too many Americans – depend on the USPS for it to be treated like a pawn. I will keep fighting to ensure the U.S. Postal Service remains solvent, reliable, and dynamic, so that it always has the strength to answer our present – and future – challenges.  I will do everything I can to prevent President Trump and Postmaster General DeJoy from undermining the USPS and Americans' faith in the election process and our democratic institutions.
Sincerely,

      Ben Cardin
---