Dear Friend,
Of all the ways that the COVID-19 pandemic has upended our lives, one of the most visible and disruptive has been the closure of our K-12 schools and attempts to move all students to online learning. This forced transition has not been easy for our students, teachers or parents. TV producer Shonda Rhimes summed things up for many parents with her tweet last month: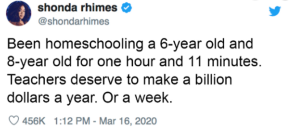 The decision to close schools and transition to online learning has been difficult, but crucial to the health of our communities. I appreciate Governor Larry Hogan and State Superintendent of Schools Dr. Karen Salmon's recognition of the significant health risks of COVID-19 and proactive work with local school systems to adapt K-12 instruction in order to protect students and employees. This effort to safeguard public health has unfortunately borne substantial new costs, such as additional expenditures on faculty training, technology, and software licensing for online learning platforms.
As Ms. Rhimes and Marylanders across our state have experienced, at-home learning also has placed new stresses on families who are now required to juggle their work responsibilities with managing their children's classwork. As we celebrate National Teacher Appreciation Week (May 4-8), I hope all Marylanders take time to recognize the incredible work that our teachers and education support professionals do on a daily basis, and especially during this historic crisis. As we gain a better understanding of the daily challenges facing our teachers, we should redouble our commitment to support them as they tend to our children's educational needs. When we support our teachers and educators, we support better outcomes for our students.
This is not a letter about teacher pay, although, I do believe educators should be better compensated for the incredibly significant work they do shaping the next generation of leaders and citizens. My message today is about how we must ensure access to a high-quality education for all students, during this crisis and beyond. As a proud graduate of Baltimore City Public Schools, I understand firsthand how a strong public education is a critical building block for life-long success and for the prosperity of our entire nation.
The COVID-19 pandemic has interrupted learning for students across the country, but also severely exacerbated existing inequities in education. The unprecedented circumstances have put tremendous new burdens on educators, many of whom already were reaching into their own pockets to supply their classrooms and support their students. It also has exposed the unique obstacles that minority, low-income, and rural communities face when it comes to accessing education.  Lack of internet connectivity is currently preventing millions of students across the country – disproportionately students who are low-income or from rural communities – from participating in classes.
In Maryland, approximately 16 percent of households with school-aged children do not have broadband internet access at home. An estimated 12 percent do not have a computer at home. Despite the significant efforts of our schools and counties to make the necessary technologies and internet access devices more widely available, recent reports from our local superintendents show that tens of thousands of Maryland's students have not made the transition to online learning. Two months into this crisis, some school districts reported that upwards of 25 percent of students have not been able to log on yet. This "Homework Gap" places our low-income and rural students further behind their peers through no fault of their own.
That is why it is so crucial that the federal government continue to provide additional funding to meet these emergency K-12 education needs. Maryland's Congressional Delegation was able to secure $207 million for Maryland's local school districts under the CARES Act for coronavirus-response activities, including purchasing technology to support online learning. Each school system in Maryland will receive funds, however, their remaining needs and longstanding Homework Gap issues make clear that the funds allocated thus far are not enough to ensure that all students have an equal opportunity to learn under these difficult circumstances. I will continue to fight to secure more federal support for Maryland's education system in the next coronavirus legislative package, which should be negotiated in the coming weeks.
As I have discussed frequently, the public health emergency gripping our nation is creating a tremendous strain on the budgets of state and local governments. It is more important than ever that the federal government provides additional resources to maintain investments in K-12 education and not backslide on commitments to our children and educators. These resources can empower states and county governments not only to address the immediate, emergency needs of students but to make the long-term, transformative changes required to improve the quality of and eliminate inequities in our school systems.
Earlier this year, I introduced the TRUE EQUITY Act, which would provide an additional $1.4 billion in federal grant funding for states and local communities that commit to transformative policy changes with a special focus on correcting education inequities. In Maryland, these new grants would go a long way towards covering the costs to implement the Kirwan Commission's recommendations and the Maryland General Assembly-passed Blueprint for Maryland's Future. Both would address a number of significant issues including the expansion of early childhood education, building college and career readiness pathways, and strengthening programs for underserved students, such as English learners and students with disabilities.
Education has the power to be a great equalizer. I believe one of the highest callings of government is to facilitate quality public education, which in turn benefits the entire community and nation with a ready and skilled workforce capable of leading in every area imaginable. The COVID-19 pandemic certainly makes that more difficult, but that means that we should be working even harder to ensure that every young person in America is able to learn. And that is exactly what I intend to do.
Stay safe,

    
      Ben Cardin
---
To be removed from this mailing list, please click unsubscribe