Dear Fellow Marylanders:
Over the past several months, countless small business owners across Maryland have been reaching out to my office, and to me directly, requesting help with their COVID Economic Injury Disaster Loan (EIDL) program loans. After weeks, and sometimes months, of back-and-forth with the U.S. Small Business Administration (SBA), more than 40,000 small business owners nationwide are still waiting on a determination from the SBA on the status of their loan applications.
That is why, as Chair of the Senate Small Business Committee, I convened a hearing this week to hear directly from the SBA about the status of these outstanding applications, as well as the 125,000 applications that have been approved but for which funds have not been disbursed.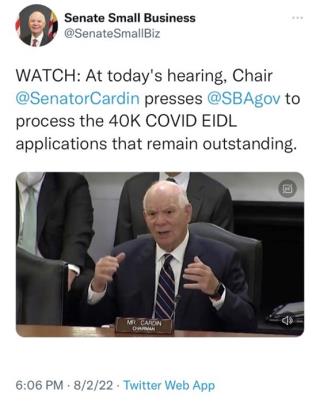 The COVID EIDL program has been a lifeline to more than 4 million small businesses since Congress created it in March 2020—providing more than $380 billion in low-interest, fixed rate, long-term loans to some of the most vulnerable small businesses, especially those that do not have strong banking relationships.
The importance of this program is why I was so disappointed by the Trump administration's efforts to undermine it, and why I am grateful that small businesses now have a champion in the White House in President Joe Biden. Only weeks into the Biden presidency, the SBA took steps to improve the COVID EIDL program to make it more useful to small business owners. The difference was night-and-day.
Having been so encouraged by the Biden administration's turnaround of the COVID EIDL program, it has been disappointing and frustrating to hear about the lack of communication that has defined the final days and weeks of the program. In addition to those outstanding cases, there are approximately 125,000 applications that have been approved but for which funds have not been disbursed.
Like the tens of thousands of small business owners awaiting relief from the COVID EIDL program, I am frustrated by the SBA's refusal to process the applications, which the agency has deemed "unworkable." "Unworkable" is not an acceptable standard. The SBA must complete the COVID EIDL program in a way that pays respect to the program's importance to our nation's small businesses during the pandemic.
Despite the SBA's handling of these final COVID EIDL applications, I remain optimistic about the future of our nation's small business sector. Small businesses have a champion in the White House in President Joe Biden.
This week in the Senate, for example, we are considering the Inflation Reduction Act. Like the historic Infrastructure Investment & Jobs Act that President Joe Biden signed into law last November, the Inflation Reduction Act is an investment in America's small businesses. The legislation will lower energy and healthcare costs—two drivers of increased operation costs for small businesses— and will ease pressure on what for many are razor-thin profit margins. The legislation will also make the tax code fairer by ensuring that large corporations pay their fair share like small business owners already do.
Consideration of this landmark bill comes as the federal government, which is the single largest purchaser of goods and services on the planet, is exceeding its small business contracting goals under President Biden's leadership. Last month, the SBA announced that federal agencies awarded 27.2 percent of all contract dollars last year—more than $150 billion—to small businesses. In addition to exceeding its overall contracting goal of 23 percent, federal agencies also met President Biden's new contracting goal of 11 percent for Small Disadvantaged Businesses.
As many of you know, federal contracting is one of the most reliable paths to the middle class for minorities, women, veterans, and other underserved entrepreneurs. This has been especially true in Maryland, where federal contracting accounts for 8 percent of our state economy. In fact, Maryland's distinction as the state with the highest concentrations of women-owned and minority-owned small businesses is due, at least in part, to our strong federal contracting sector. Our state is a model for small business contracting, with one out of every three federal contract dollars spent in Maryland going to a small business.
These are historic investments in small businesses that will be felt by entire communities for generations to come. President Biden promised to make our economy fairer for small businesses, and my Democratic colleagues and I in Congress are working with him to deliver on that promise.
The health of our nation's small businesses requires Congress to deal with the lingering effects of the pandemic while we look to building a better future for American small businesses. We can and must do both.
Thank you for your time. Stay safe.